Michael D. Rittenberg, DVM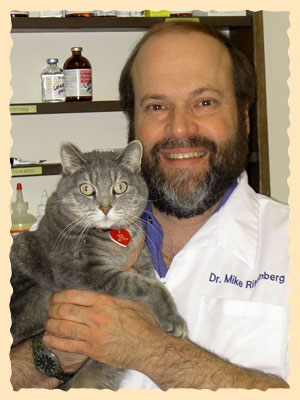 Since becoming the chief veterinarian of Foothill Pet Hospital in 1997, Dr. Rittenberg has brought his wealth of experience in small animal and exotic medicine to the Santa Barbara area.
Dr. Rittenberg graduated from UC Davis with his DVM (Doctor of Veterinary Medicine) in 1985. He has dual Bachelor's degrees in Biology and Mathematics from UCLA. And, he completed an Internship in Small Animal Medicine and Surgery at Santa Cruz Veterinary Hospital. See his list of Professional Affiliations.
Dr. Rittenberg has extensive Medical and Surgical experience with Canines, Felines and Exotics. Prior to coming to Foothill Pet Hospital, he had been associated with a variety of highly regarded veterinary hospitals throughout the Southern California area.
Dr. Rittenberg's philosophy is quite simple: Treat every pet that enters Foothill Pet Hospital as he would want his own pets treated.
He is extremely devoted to his pets and they mean the world to him. Dr. Ritt has three cats, one of whom is "Zach", our hospital kitty. We call him our "Social Director" because he likes to visit everyone in the hospital. His other felines are orange tabbies named "Squirt" and "Ben".
Dr. Ritt rehabilitates ill and unwanted turtles and tortoises. At any given time, he may have 15 to 25 turtles. His largest had been a very energetic, highly personable, 115+ pound African Spurred Tortoise (Sulcata) named "Geo." Dr. Ritt and Lisa raised Geo from a 5 pound tyke for 16 adventurous years. Geo was Dr. Ritt's/Lisa's backyard celebrity. Visitors to their home thoroughly loved handfeeding him and watching all his antics. Geo thrived on all the attention he received.
However, due to Geo's tremendous size, activity level, and backyard space limitations, Dr. Ritt/Lisa had to make the difficult decision that they had been pondering for many years: What to do with this big kid once he outgrew our home?? So, while it was very hard, they knew it was best to have their very good veterinary surgical specialist friend adopt Geo.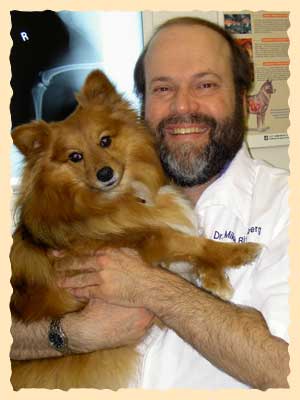 The adoption took place in July 2006. Geo's new family was thrilled to have him. Since they had adopted some of Dr. Ritt's/Lisa's baby box turtles in the past, Dr. Ritt/Lisa knew Geo would have a great home. In fact, Geo's new family have a ranch. So, they were able to create a huge pasture expanse for Geo to roam. Things were going well for Geo until the brush fires of December 2006.
Sadly, Geo was a major casualty of the fires. While all the people and other animals survived the ordeal, Geo was badly burned. And, after a long 6-week ordeal in the specialist's hospital trying to save him, Geo succumbed to the fire's effects. As you can imagine, Dr. Ritt/Lisa were crushed. Even with their input and efforts, Geo didn't make it.
While Geo will be tremendously missed and they think about him often, Dr. Ritt/Lisa say at least they have many fabulous stories, quirky tales, and remembrances about the big guy.
As a memorial to Geo, his picture is included on the home page headliner along with Zach's and Bru's.
Thankfully, Dr. Rittenberg still has lots of desert tortoises and box turtles to keep him company while he is gardening. Plus, he has a leopard tortoise named "Nafeesa".
Also, Dr. Rittenberg found the perfect turtle-friendly, back-saving, garden-compatible dog who is now our other unofficial mascot. His name is "Bru" (short for UCLA Bruins). "Bru" is a Chihuahua-Sheltie mix with lots of personality and looks like a little fox. He comes to work every day with Dr. Ritt, and is his constant companion and side-kick.
When he is not working at Foothill Pet Hospital or caring for his own pets, Dr. Ritt is quite an avid gardener. He grows all types of exotic, ornamental and tropical plants and flowers such as: Orchids, Plumerias, Antheriums, Gingers, Azaleas, Proteas, Begonias, Dahlias, & Cacti.
He enjoys collecting gems, minerals and fossils, as well as contemporary art glass. He loves going to swap meets, cultural festivals, and art festivals. And, when time permits, he loves traveling and exploring new places.
Dr. Ritt combines his dedication to high quality, thorough veterinary medicine, with his caring, warm, "down to earth" style.