Bru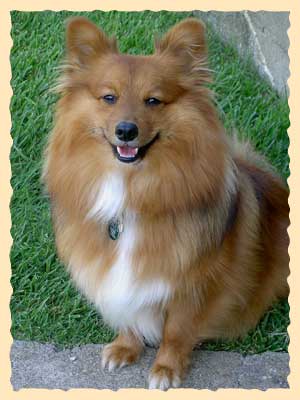 My name is Bru (a.k.a. Bruin as in UCLA Bruins). I am a canine (dog), and I am half Sheltie and half Chihuahua. I was born in March 2003, and was adopted by Dr. Rittenberg (Dr. Ritt/Dad) and Lisa (Mom) in May 2003.

Dr. Ritt found me outside a local pet shop when he noticed two young girls and their mom trying to find my brother and me a home. At the time, I was only about 6-7 weeks old, weighed less than a pound, and was a tiny fluff ball that could fit in your shirt pocket. In fact, Dr. Ritt always says that when he first saw me from a distance, he thought I was a little kitten. It was only after the girls approached Dr. Ritt in his car that he realized I was a puppy. Another lady adopted my brother, and as soon as the girls got Dr. Ritt to hold me – that was all it took for me to join his family. He did ask Lisa too, but that sales job was no problem – it was instant love for her too.

Now, I weigh a bit more, and have a real fox-like look with beautiful Sheltie-type markings and coloring. Also, you can see my picture hanging in our dog waiting room. Or, if time permits and my Dad says it's OK, maybe I could visit with you when you come in.

I am Dr. Ritt's constant companion. I drive back and forth to work with him on most working days. And, once at work, one of my main duties is morale coordinator. If a staff member or a client needs a little perking-up, I'm the one to make you smile. Also, with my long hair and fluffy tail, I allow the staff to hone their grooming skills.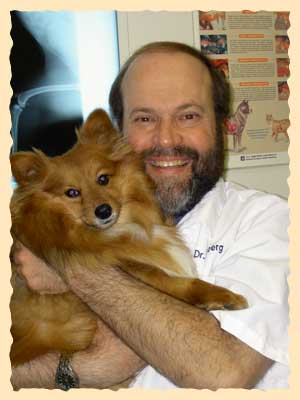 For fun, I like to cheer for the UCLA Bruins anytime someone yells "Go Bruins" or claps for them. Also, I like roughhousing with my Dad.
We play with his socks, all my numerous stuffed animal toys (especially my Sponge Bob toys), and my tennis balls. In addition, I like snuggling with my Mom, playing with my three cats (Zach, Squirt, and Ben), playing with the technicians at work, barking at all visitors until they say hi and pet me, and traveling to new places or anywhere Mom and Dad go.