Lisa Hoffman, MA, ATR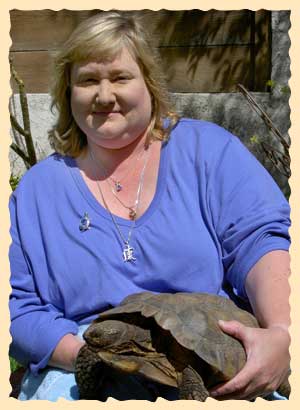 Lisa has been associated with Foothill Pet Hospital (FPH) since 1994. Lisa completed her Master's Degree in Clinical Art Therapy at Loyola Marymount University after obtaining her dual BA degrees from California State University at Fullerton in Fine Arts/Painting and Psychology. She has worked in the human field for many years as a Gerontologist. Her primary dedication was to seniors with chronic mental illnesses and dementia disorders. Also, she worked extensively as a social worker with Alzheimer patients and their families, frail "at risk" elderly patients, head trauma patients and their families, developmentally delayed patients, and substance abuse patients. Much of her work centered on using art as a therapy tool to bring patient issues to the forefront.
Lisa is Dr. Rittenberg's (Dr. Ritt's) spouse of many years. Prior to Dr. Ritt getting directly involved with FPH, Lisa joined FPH as an employee. Besides providing Lisa with exposure to the veterinary field, it allowed her to see if FPH would be a good match for Dr. Ritt's ideals and goals. Once Lisa was able to see and experience the layout and dynamics at FPH firsthand, Dr. Ritt and Lisa determined that FPH was ideally suited to become the extension of their dreams.
Lisa's many roles at FPH center around the business side of the hospital's function. These are mostly the "behind the scenes" roles. In this capacity, Dr. Ritt can then focus on the Veterinary Medicine side of the hospital's functions.
Per Dr. Ritt's request and input, Lisa designed all of FPH's individual logo animals. The nine animals (dog, cat, turtle, rabbit, lizard, snake, ferret, mouse/rat, and hedgehog) are designed in the theme of petroglyphs and ancient rock art like that seen at Painted Cave and other locations in the Southwest area. Also, the stained glass windows seen hanging in each of our two waiting rooms were done by Dr. Ritt's Dad and patterned after Lisa's logo drawings.
Lisa is responsible for all the color and design of FPH's documents, handouts, forms, stationery, and business cards. Also, with Dr. Ritt's input, she initiated all FPH's systems and hospital manual material. Before her various health issues sidelined her (from which she has rebounded), Lisa came to work daily with Dr. Ritt and worked the front office and reception positions too. Now, Lisa does most of her business functions (i.e. bookkeeping, payroll, accounts payable, accounts receivable, etc.) from home. Yet, even with this, Lisa still serves as FPH's artistic director, morale officer, purchaser of supplies and equipment, and overall runner.
In her spare time, besides managing their huge pet menagerie with Dr. Ritt, Lisa finds time to create and perform her various artistic endeavors. These include conjuring animal figures out of gourds and painting them in vibrant colors (you may have seen them around the hospital), designing small gourd pendants and earrings, painting and adding textile products to masks made from palm fronds, and oil and acrylic paintings of exotic flowers and birds. Besides art, she enjoys music from different cultures, baking, cooking (especially desserts), needlepoint, gem and mineral shows, arts and crafts festivals, traveling, and has numerous collections. Her great love (besides Dr. Ritt) is anything purple. According to Lisa, it just makes the day that much brighter and fun!