Nicola DiPaolo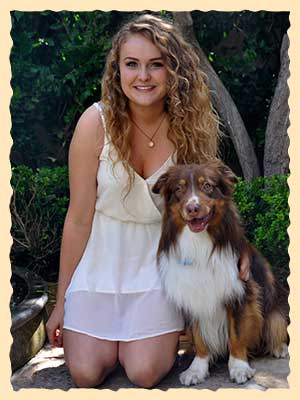 Nicola joined our Foothill Pet Hospital (FPH) staff in April 2016. Nicola originally hails from Reno, Nevada. She moved to the Southern California area during high school, and subsequently began her studies at UC Santa Barbara (UCSB) in 2014. Her goal is to graduate from UCSB with a Biochemistry degree, and then go on to veterinary school.

Nicola is delighted to join our FPH staff as a part time veterinary assistant. When you meet Nicola it is quickly apparent that she is a very warm, caring, calm, personable, and supportive type of person. Pets seem to sense this too, and readily bond with her. Nicola's passion to learn is immediately apparent. She is inquisitive, motivated, and eager to learn all she can about small animal medicine including our various exotic patients such as reptiles, rabbits, guinea pigs, rats and the others.

All our staff enjoys working with Nicola. Her humble, upbeat, enthusiastic, ready to help personality makes everyone happier when Nicola is here. Nicola's quick ability to grasp what is needed, and then apply that knowledge allows her to be able to immediately contribute to FPH's goal for excellence in patient care and service.

As with all our staff at FPH, Nicola performs many tasks, and fills many roles at FPH. While patient comfort and well-being will always be our paramount goal, there are many other functions and tasks that a future veterinarian will need to learn and understand. Some of these duties include: Assisting Dr. Rittenberg (Dr. Ritt) with exams and patient procedures; assisting Emilie and the other staff with treatments and procedures; assisting clients with their pets, questions and concerns; performing patient treatments; assisting with anesthesia and surgery; performing in-hospital laboratory tests; filling prescriptions; assisting clients upon checking in and out; answering phones; taking x-rays; front office duties; and maintaining hospital cleanliness.

Another huge "job" of Nicola's (as with all the staff) is to pet, entertain, play fetch, and play tug-o-war with Dr. Ritt's Bruin (a.k.a. Bru). Usually, Bru instigates the activities, but Nicola readily goes along and initiates too. With her calm, upbeat, compassionate, and comforting style it is readily apparent how much Bru and all the pets quickly bond and feel comfortable in her presence.

Growing up, Nicola was only allowed to have her precious dogs. While she wanted to experience other pets too, it was not in the family cards for her. Yet, she remembers one of her earliest Christmas presents being the New Encyclopedia of the Dog and reading it cover to cover at bedtime.

In order to get her animal fix, Nicola would spend her summers outside observing and being fascinated with the local wildlife, and hanging out with all her friend's pets too. She even remembers trying to save baby chicks that fell out of the tree in her yard. Based on all her experiences, she feels that even at a young age, she realized the importance of the human-animal bond.

When she is not helping at FPH, Nicola spends most of her time studying. But, she still manages to have fun too. She loves anything involving arts and crafts, and fixing gadgets as she says it. Some of her numerous other interests include snowboarding, dancing ballet, playing the piano, cinematography, assisting in the freshman chemistry labs, and going swimming in the ocean with her beloved Australian Shepherd named Drake. Besides Drake, Nicola has two Aussie-doodles named Riot and Ruckus that stay with her dad in Reno. And, currently Nicola resides with her friend's mischievous cat named Harry.