Robert Chao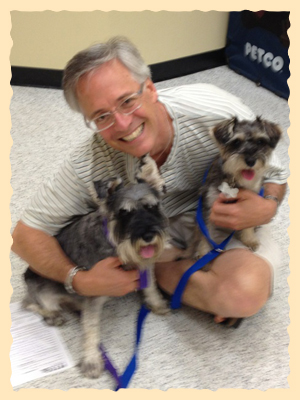 Robert joined our staff in January 2002. While all our staff cross-train for front office and technician duties, Robert's upbeat style and organizational skills make him the perfect fit for being Foothill Pet Hospital's (FPH's) main front office coordinator.

With his warm, caring and nurturing personality, and his infectious laugh, Robert handles the crucial position of being the main voice and face of FPH quite admirably.

Robert performs many functions at FPH. Some of these include greeting patients and clients, coordinating appointment and surgery/procedure times, handling phone calls from clients, specialists and vendors, providing answers to client's questions, medical records charting, communicating in-patient information from Dr. Rittenberg (Dr. Ritt) and the technical staff to the clients, and reviewing Dr. Ritt's instructions and recommendations with the clients.

For pets, Robert has two wonderful miniature schnauzers he rescued. They are a mom and daughter team. Their names are Bertie (the mom) & Boomer (her kid). They are the latest loves of his life and go everywhere with him. And, with his free time, Robert has lots to keep him busy between Santa Barbara and Palm Springs.