Tiana Rangchi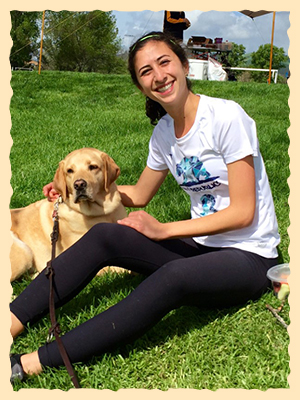 Tiana grew up in El Dorado Hills, California, but she professes that Santa Barbara has always been one of her favorite places. Therefore, after graduating from UCLA with a degree in Biology in July 2016, Tiana was thrilled to be able to join our staff and move up to our wonderful area. She works as a full time staff member. Her plan is to learn and experience all she can to achieve her goal of attending veterinary school and becoming a veterinarian.

Tiana is very inquisitive, and eagerly strives to learn all she can in a small animal and exotic veterinary hospital setting. Besides her intelligence, Tiana is extremely poised, professional and mature. She is even-keeled, and yet there is a real exuberance behind all she does. Whether she is helping with exams, surgery, patient care, clients, other staff, or on the phones Tiana is calm, confident, compassionate, caring, humble, and a true team player. While she is very hard working, Tiana maintains a personable, outgoing, and unpretentious character.

We treat many species of pets at FPH, and Tiana is interested in learning all she can about all of them. Tiana's official position at FPH is as a veterinary assistant. But, with how FPH's positions overlap, her roles encompass all facets of a veterinary hospital's performance. And, Tiana has readily and competently jumped in to help with front receptions duties as well as the assistant duties in back.

Some of her duties include: Patient Handling and Restraint; Assisting Dr. Ritt and the other Technicians with Examinations, Procedures, Anesthesia, Surgery, and Treatments; Providing for the Comfort and Well-being of our Patients; Greeting and Assisting our Clients and their Pets; Scheduling; Explaining Prescription Information and Doctor's Instructions; Performing In-Hospital Tests; Taking X-rays; Kennel Duties; and Maintaining Hospital Cleanliness.

Another hugely important "job" (as with all our staff) is to entertain and play with Dr. Ritt's Bruin (a.k.a. Bru). Bru is always excited to see our staff and interact/play with them. But, with Tiana being our first official UCLA Bruin staff member besides Dr. Ritt himself, Bru is extra excited to have her on our staff (or, maybe that is Dr. Ritt's bias :) ).

When Tiana is not working at FPH, she enjoys hiking, paddle boarding, running, beach volleyball, and ultimate Frisbee. But, her truly favorite activity of all is playing with her yellow Labrador named Rabbit.